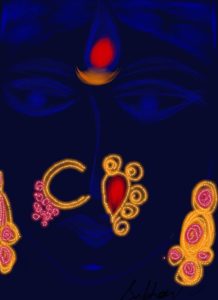 Day VII of Navratri Maa Kaalratri – Offer her jaggery to seek her blessings and ward evil from our mortal forms. Eat complex carbohydrate rich sweets made of jaggery and yes same time remember Jaggery is a high caloric food and hence unless you have really lived on fruits on day 5 and 6 do not go over board on eating sweets today .
The Day 5 and 6 are purely spent on fruits and honey it's now time to again charge your system with high energy complex foods with jaggery (Gur) as main ingredient. Maa Kaalratri is worshipped as the seventh form of Maa Durga. She is a remover of all the evil powers and thus is called by the name of Kaalratri. She is offered sweets made of jaggery or jaggery as Prasadam.
What to make ? Jaggery stuffed rotis (Gur ki roti), Bengal gram jaggery cooked and stuffed rotis (puran poli),  Jaggery with rice or  or broken wheat and Jaggery kheer, rice flour Jaggery mixed pan cakes, any local food offered as Prasadam where Jaggery is the sweetener – sweet Pongal, chana daal Gur porridge, ragi laddu, groundnut/ til laddu etc.
Some learning on Jaggery: Jaggery/Gur is made from sugar cane, its unrefined form of sugar made in large Iron barrels, without any preservatives and has a small amount of fiber too. It is rich source of Iron and several mineral salts. It is also a decent store of calcium, magnesium, and zinc.
Jaggery is loaded with antioxidants and minerals like zinc and selenium, which help prevent free-radical damage and also boost resistance against infections .It is a complex form of sugar, generates warmth in the body and is absorbed in the body gradually without causing fluctuations in blood sugar levels (sudden rise in sugar levels that is typically noticed on consumption of glucose or white refined sugar)
Jaggery is excellent in secreting digestive juices, and prevents constipation. It benefits in case of lung and upper respiratory blockages. It is a nerve tonic and helps in fluid balance, and cleansing the body and purifying blood. Muscular cramps especially among woman can be prevented with regular intake of Jaggery in small amounts. Jaggery enhances and improves the quality, color of a recipe apart from sweetening
Want to effectively detox your body? Eat a small piece of Jaggery. It helps detoxify your liver by flushing out harmful toxins from your body. Cough and cold, water retention, bloating and migraine are some of the minor health problems that most of us experience on an everyday basis. However, you can fight these symptoms with the help of Gur. All you need to do is mix it with warm water and drink or add it in your tea instead of sugar to reap its benefits.